I'm a sucker for Kopkuri. It's Kyrgyzstan's national sport, and you can watch it at the World Nomad Games.
The rules are simple: chuck the headless carcass of a formerly bearded ruminant into a swarm of about 50 expert horsemen and their mounts, and let the hooves fly!
Dead goat polo isn't the only event at the World Nomad Games, held annually the first week of September in the Issyk Kul lake region of Kyrgyzstan. The Games- whose motto is 'United in force! United in spirit!'- seek to preserve and celebrate nomadic sport and culture. Events include wrestling, wrestling on horseback, wrestling with horses, throwing javelins from horses at other people throwing javelins from horses at you, and blood sports involving eagles, falcons and dogs. 23 types of sport, all without safety gear, most in very, very cool hats.
Wimpy Olympians need not apply.
[vc_video link='https://youtu.be/ydLvd1KIsIM']
What the hell is a Kyrgyzstan?
Hugged by post-Soviet 'stan countries (Tajiki-, Uzbeki-, Kazakh-) the nation of Kyrgyz also borders northern China. Though it's not saying much, it's the most democratic and market-oriented country in Central Asia. Kyrgyz people are hard-drinking Muslims known for their tremendous hospitality and god-awful fermented horse milk beverages. This is the place where yurts come from.
The Games also include traditional strategic diversions, though sadly the traditional 'korgol' ('sheep droppings') in toguz korgol have been replaced by thoroughly modern wooden pellets. And an ethnic fashion show with even more very, very cool hats. Competition in what WNG calls the 'ethno hit' event is fierce and familiar: think Eurovision with a tad more ululation.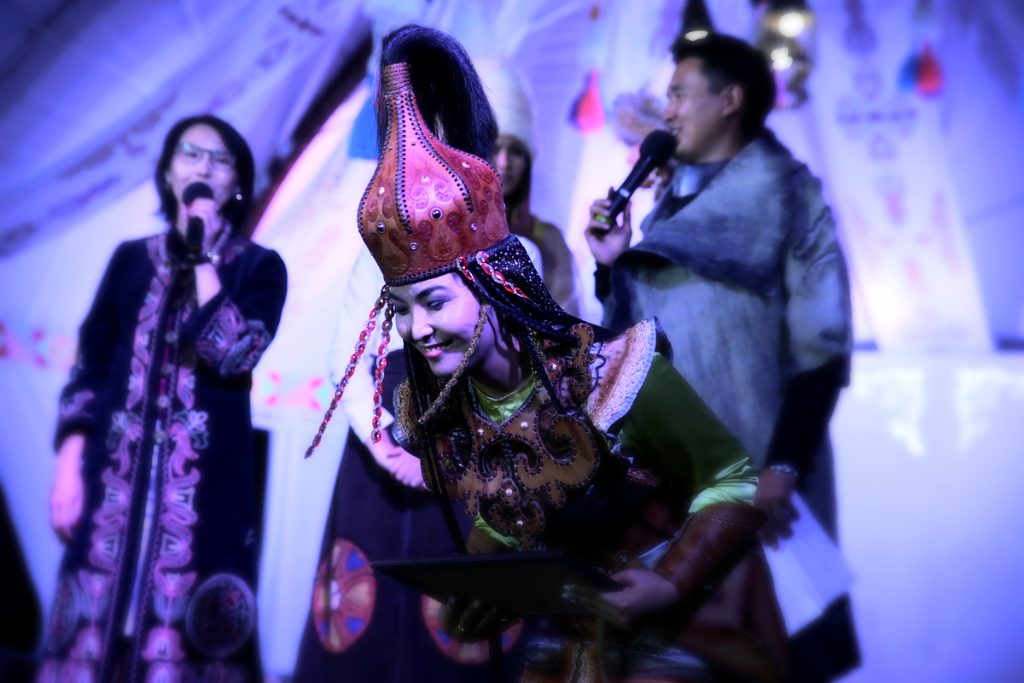 Not brainy enough? There's also a scientific conference with the theme 'Nomadic civilization: Historical Heritage and Modernity.'
Cheap at twice the price
With 40 countries participating, World Nomad Game updates will be in Kyrgyz, Russian, and English. Ticket prices for the opening and closing ceremonies begin at 300 soms and top out at 3,800 soms, or around 50 euros. Too much? But there will be stunt riders atop horses on fire! Not into paying for pomp? All of the sporting and cultural events  in the Hippodrome and in Kyrchyn Gorge are free.
There are plenty of places to stay in Bishkek, the nation's capital, colourful due to its petrified Soviet architecture juxtaposed with a young and vibrant scene. There's plenty to do when not watching athletes do things on horseback. 90% of Kyrgyzstan is mountainous. This means terrific outdoorsy activities with spectacular views. For the horsey set, the riding is unbeatable. Homestays in yurts abound. For those who prefer to exercise their wallets, the country offers beautiful handicrafts and competitive shopping in its open markets. Direct flights are available from Istanbul, Delhi, Dubai, Moscow and more.
But hurry, go before it's teeming with fellow rubberneckers. According to the United Nations World Travel Organization, Kyrgyzstan is one of the world's top 10 tourist destinations most likely to boom over the coming decade.
All images courtesy of World Nomad Games